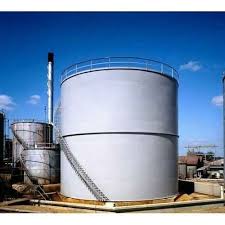 A Storage Tank is used for storing the oil, gas, water, petroleum products, etc, besides these the storage tank, is used for processing, mixing and transport of raw materials as well as for finished chemical products. We are the leading manufacturer, supplier and Exporter of Storage Tanks based in M.I.D.C. Anandnagar, Ambernath, Mumbai, India.
We are manufacturing the tank in various sizes and shapes depending on the requirements of the client or end-user. We are manufacturing underground tanks, vertical tanks, and horizontal tanks. The tank material of construction is stainless steel, Carbon Steel, Low-Temperature Carbon Steel, Mild steel, Duplex Steel and Alloy Steel. We are highly recommending to our client and industry the use of stainless steel tanks, which is low maintenance, High Durability, long-lasting, leak-proof, Superb finishing, Non-corrosive, easily withstand various temperature fluctuations, High accuracy, and cost-effective.
we have the expertise to design the customized Storage Tank to the safety and cost-effective according to our client or end-user requirements. We are designing the Storage Tank as per the API 650, API 620 & IS 803. We are well focused on delivering the best quality product to our end-user or Client. We are using premium quality of Raw materials or customer-recommended makes. we are using advanced technology machines and equipment. we have highly experienced and skilled employees. We are checking and testing the Storage Tank at various stages to ensure the quality of Storage Tanks. We are manufacturing Storage tanks for the following industry.
Storage tanks for the oil and gas industry.
Storage tanks for the chemical industry.
Storage tanks for the pharmaceutical industry.
Storage tanks for the food industry.
Storage tanks for the cosmetics Industry.
Storage tanks for the Offshore industry.