A Heat exchanger is a system used to transfer the heat between two or more fluids. These media may be a gas, liquid, or a combination of both. The heat transferring process occurs without the two fluids having to mix together or come into direct contact. The media are separated through a solid wall, to prevent mixing, or they may be in direct contact. The Heat Exchanger system is designed and manufactured for use in both heating and cooling processes. For example, the use of heat exchangers in the bioprocess industry is ubiquitous from high-temperature pasteurization to low-temperature freezing.
We are manufacturing the following type of Heat Exchanger.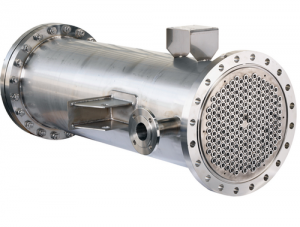 Shell and Tube Heat exchanger
Plate Heat exchanger
Plate and shell Heat exchanger
Plate fin Heat exchanger
Waste heat recovery units Heat exchanger
Dynamic scraped surface Heat exchanger
Phase change Heat exchanger
Double pipe Heat exchanger
Air Cooled Heat exchanger
Direct Contact Heat exchanger
Saanvika Corporation is one of the leading manufacturers, suppliers and Exporter of Heat Exchangers based in M.I.D.C. Anandnagar, Ambernath, Mumbai, India. We design and manufacture the Heat exchanger as per the ASME SEC.VIII and TEMA. We are well focused on delivering the best quality product to our Clients. Using premium quality raw materials or customer-recommended makes. Having advanced technology machines and equipment. We have highly experienced and skilled employees. We do the inspection and testing the Heat exchanger at various stages to ensure the quality of the Heat exchanger. Saanvika Corporation supplies and manufactures Heat Exchangers for the food processing industry, dairy industry, biochemical processing, pharmaceuticals, chemical plants, petroleum plants, and others.