Aluminium Dome Roofs / Geodesic Dome Roofs
Aluminium Dome Roof works as the roof which completely prevents rainwater from going into and minimizes the evaporation of product contained in the tank. Through FEM structure design analysis shall be necessary to withstand the load such as wind and seismic factors without the support of an extra column. The most advanced Aluminium dome roof design makes it possible that internal pressure is set up in the tank by max.2.2kPa.
Key Features
All corrosion-free Aluminium
Most effective leak-free solution
Emission reduction
The low total cost of the roof solution
No welding at the site
Lightweight and maintenance-free
The flat full flow strut design
Water and air tightness sealing
Compatible with all petroleum product
Easy to the installation of all accessories
Accuracy and tightened structural design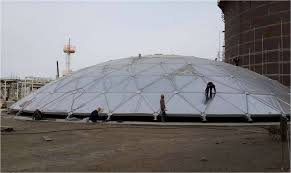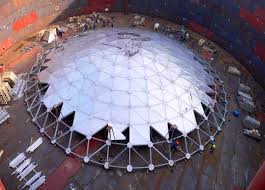 Primary Foam Seal, Primary Foam Seal Vapor Mounted, Liquid Mounted Primary Foam Seal, Secondary Seal, Aluminium Dome Roof, Gauge Pole Cover, Leg Seal, Retractable Bypass Grounding Reel, RGA, RBCA, Manufacturer at M.I.D.C.Anandnagar, Ambernath, Thane, Mumbai, India.